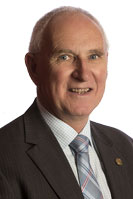 Michael began practicing law in 1969. He has been the senior partner at Tehan George & Co since 1973. Michael is a notary public and a qualified mediator.
In 2012 the Law Institute of Victoria recognised Michael as the Regional Lawyer of the Year.
Michael's expertise and experience spans legal matters, local government, audit, regional development, strategic planning, community networking and development, as well as tourism, hospitality, tertiary education and training.
Michael has served on the board of Goulburn Ovens Institute of TAFE since 1997. He served as deputy chair for three years, then served as board chair from 2008 to 2017. Michael was also a member of the Executive, Audit and Remuneration Committee of the board.
Michael is a former local government commissioner. He is also a former chairman of Nagambie Lakes Authority. He is a member of the GVL Independent Tribunal and chair of the GVL Audit Committee. Michael is a past president of the Rotary Club of Euroa. He has served as a chair and a member of many Rotary committees. Michael is a multiple Paul Harris fellow.
Michael is a past board member of the Benalla Performing Arts and Convention Centre. He is a past chair of the Strathbogie Shire Council Audit Committee.